Welcome to Breckamore Collies, taking the Rough with the Smooth, breeding for
type and temperament
 Welcome to My Web Site:
Breckamore is The Top winning Yorkshire Smooth Collie kennel with 47 Challenge Certificates (and counting) won by my own dogs not counting Champions owned by others. We are home to 4 Champions (including Crufts winners) with another almost reaching the "upper" house.  I am a Championship show judge & have judged in Helsinki.  Sadly due to covid my trip to judge in The Czech Republic was canceled.  I also judge Rough Collies and am a Committee Member of The Smooth Collie Club of GB.  To date I have bred SIX UK Champions and exported Smooth Collies to the USA, Belgium, Switzerland and Ireland.  I only breed to find my next Champion, not to make money.  However not all will be Champion potential so many puppies are aimed as becoming family pets which means its equally important that they possess gentle temperaments.
I pride myself producing not only top winning dogs but always with sound calm temperaments generation after generation.                  ** Please note I do not let my litters leave at 8 weeks as this is far too young, 10-12 weeks is correct for this breed. **          **I do not cross Breed roughs and smooths or use puppy rearing gimmicks which clearly do not produce calm sensible dogs. **
Help & advice freely given.
A few years ago we relocated to a beautiful property between Selby & Doncaster which is perfect for our Smooth and Rough Collies, very close to M18 / M62. The Yorkshire vet Julian was one of our vets prior to our move. Our kennel is completely collie friendly with lots of room, dog kitchen, doggie shower/ grooming room, whelping area, covered outdoor area and paddocks.
Prior arranged visits are encouraged should you be seeking to purchase a show or family pet. Rough Collies are very much to the fore having started with them 42 years ago. Please note Rough & Smooth Collies are not bred together they are separate breeds.    
Being a responsible breeder, with over 40 years experience & due to the economic climate I only breed when I want to keep a puppy myself.  All puppies are reared in the house until they require more space and new surroundings.   Please do not be led into believing Smooth Collies are rare, they are not!  I have plans well in advance and stud dogs with sound, calm temperaments already selected to improve on my show stock for many years, always planning to improve. Breeding is an art knowing what to improve on in the bitch, without it you just have a hotchpotch of guesswork, knowing which way to go only comes with experience, no Mr X plans here!                                                                                                                                    SHOW NEWS: 2023
          I imagined the New year was destined to be fairly quiet on the showing front, however this seems to not be the case!                                                         I judged Rough collies in January with a more than respectable 43 / 54 entered.                                                                          My Rough Collie Breckamore Pitch Dark attended the British Collie Club Junior of The Year competition and came a creditable 4th!   March saw at day on the Smooth Collie Discover Dogs stand at Crufts while I continue to serve on the Smooth Collie Club of GB committee as well as Northumberland And Durham Rough Collie Club. 
                                  Next saw the show  Debut of my smooth puppy Breckamore Believe it or Not, AKA Ada.              Yorkshire Collie Club open show, Best Smooth Puppy, Best puppy in Show.   British Collie Club Championship Show, Best Puppy Bitch Best puppy in Breed Best Puppy in Show.  Scottish Breeds Championship show, Best Puppy in Breed, Bitch CC and Best of Breed.  This gave my kennel our 45th CC not counting Champions we have bred for others.         On the same day Breckamore peaky Blinder at Lyndaryn took his third CC for his owner Sarah Flower to gain his title making him the 6th UK    Breckamore Champion.                                                                                                                                                                            Lancashire & Cheshire Collie Club Ch show saw Ada take another Best Puppy in Breed then Best Puppy in Show, again competing with the Rough Collies.  Finally a trip to Scottish Kennel Club saw Ada take all with Best Puppy, Bitch CC and Best of Breed rounding off an amazing Unbeaten Puppy career.                    
                                    Ann French
 Photo above,  Breckamore Pitch Dark
BRECKAMORE PITCH DARK
RCC East of England 2023
1st  Limit Leeds 2023
Fourth British Collie Club Junior of The Year 2023   
BPIS Midland Collie Club Ch show 2022
Breckamore, 0ver 40 years experience, Collies with perfect Temperaments along with Country of Origin Breed Type !
SMOOTH COLLIE PUPPY PLANS
Plans for an extra special litter by Champion Sire  from top winning Dam early 2024                                                                          Booking is advised, puppies will be Tri colour & Sable, please contact 
 Email ann@smooth-collies.com   Tel 07793 812206
                                                                                                                          BRECKAMORE BELIEVE IT OR NOT
                                                                                                                                              pic above
                                                                                                       (Champion Foxearth Fletch X Foxearth Fabostinta For Breckamore)
                                                       2 CC'S BOTH WITH BEST OF BREED AT UNDER 12 MONTHS OLD. UNBEATEN IN PUPPY CLASSES
Above,  The well know Champion Foxearth Flock Master for Breckamore.  Winner of 19 CC's. numerous RCC's, multiple Best in Show awards & sire of many Champions.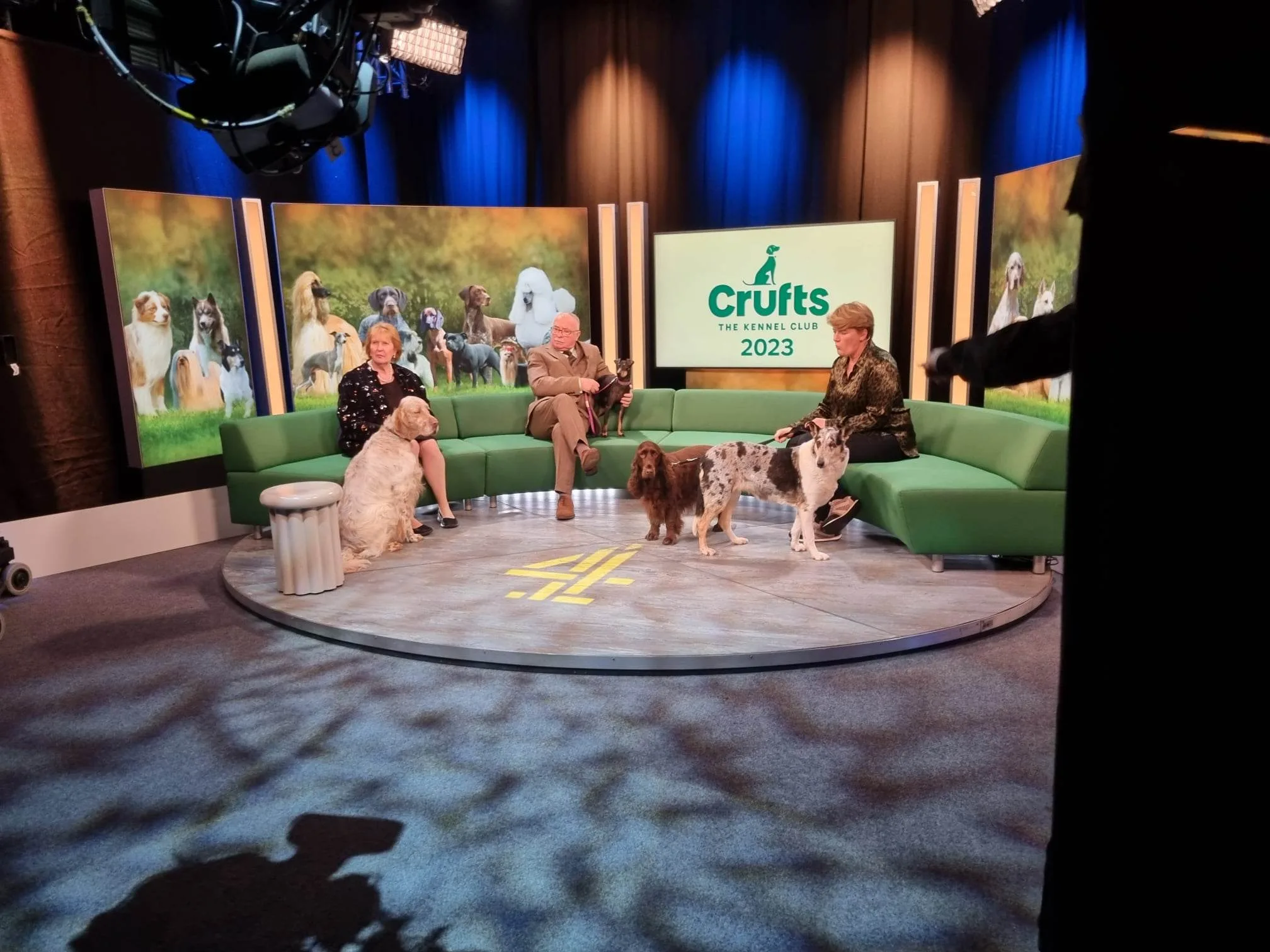 Champion Wynele Alice Blue Gown for Breckamore  4 CC'S  RCC CRUFTS 2022  BIS SCCGB Championship Show 2022. 
                                   Dotty made an appearence on TV with Claire Balding Crufts 2023 after her day on the Discover Dogs stand!
 Champion Breckamore by Design
(Ch Foxearth Flintab X Finnish Touch for Breckamore )
Harry has been a top winning Smooth collie dog for several years, his wins include:
17 CC'S       5 RCC'S
Crufts CC       
Crufts RCC 2022
Pastoral Group 2 Birmingham
Smooth collie club of GB, Smooth Collie of The Year for 2 consecutive years.
Best in Show Awards including at the Smooth collie clubs Championship show a number of times but especially under Mr S Mallard 2017 who's critique is below:
 OD (7) 1 French Ch Breckamore by Design, upstanding, masculine blue Merle of excellent breed type, construction and quality, impressive outline from a soundly made frame carrying correct substance and muscle condition. I considered him quite special. Typical foot perfect movement and sporting a clear harsh coat. DCC BOB.
SCCGB Best in Show Open show 2021 Judge Mr Darren Clarke who's critique is below:
 OD (5) Lovely class, quality right down the line.
1st Ch Breckamore By Design. Outstanding blue of lovely clear colour and well broken markings.
Super head, clean wedge with a well placed stop. Good eye shape and ear set and carriage. Excellent
reach and arch of neck, extenuated by a full white collar. Good front and rear angles. Deep chest.
Excellent body, good croup, mature and in hard condition. Quality bone and stands on functional
feet. Moved well out and back and really covered the ground from profile. Looked a picture on the day and was pleased to award him BD and BIS.
24th Sept 2021 Judge Mrs B Hayward (Foxearth) critique below: Open Dog: 4
1st French's CH. Breckamore by Design B/M
Upstanding all masculine male, beautiful balanced head of good length. Excellent eye and expression, well placed and carried ears. Good length of neck, nicely sweeping over withers, back of good length, very good croup. Correct tail set and carriage. Very good front and fore chest, well laid shoulders and length of upper arm. Good depth of chest, nice ribbing, very well angulated, good bone, excellent movement front and rear. Good reach and drive. DOG CC & BOB BIS
Harry is confidently offered at stud Siring winers including Champion and RCC winners.  Eyes clear

(as puppy)

HD 3:6 (UK) = A (FCI) CEA carrier MDR1 -/- DM N/N
CHAMPION FOXEARTH FLOCK MASTER FOR BRECKAMORE
( Ch Int, Ger, Lux, Foxearth High Frequency X Ch Sandcastles As You Like It At Foxearth )  
 Sheldon has been a Top winning Smooth Collie for many years gaining 19 CC'S 9 Rcc's
Top Puppy in Breed & was Smooth, Collie Puppy of The Year
Junior Warrant,Top Smooth Collie
Sept 2015 SCCGB Championship show under well known Charlotte Høier Open Dog, 6 entries, 1 absentee.
1. Ms A French's CH. Foxearth Flock Master for Breckamore.
My heart jumped when I saw this dog. For me
there was no doubt about this being the best dog in the entry. What a smooth collie. Everything fits like
hand in a glove. Splendid silhouette with the typical slight rise over the loin. It was no dip behind the
shoulder which we see so often. He had good bone and was perfectly balanced. He moved freely and it was
a pleasure to see him both standing and moving. You can fault them all and to be critical I would like this
stunning smooth's back skull slightly less deep.
But let me say this clearly: I loved him. He was an
impressive representative for his breed. CC, BOS, RBOB
Numerous Best In Show Awards including at the SCCGB Championship show 2019
 DCC, BOB, BIS, BVIS Under respected well known all rounder Mr Frank Kane who's critique is below:
OD (6, 1)
1 French Ch Foxearth Flock Master for Breckamore JW 8 years tri colour stood out for confirmation and movement. Very good head planes and clean through the skull. Eye is a good colour but a little round. In superb condition. His angulation and muscle tone ensure his excellent stride and topline. DCC & BIS & BVIS
Best Veteran Crufts
Retired from Stud, sire of 4 UK Champions and several Rcc winners, plus champions abroad
Eyes clear (as puppy)     CEA non-carrier   PRA-rcd2 non-carrier
           MDR1   DM  N/N
CHAMPION WYNELE ALICE BLUE GOWN WITH BRECKAMORE
Dotty now has 
(Ch Foxearth Flintab X Kingrock Atarah Wynele)
4 CC'S
Best in Show SCCGB Championship Show 2022
RCC CRUFTS 2022
Her wins include Best in Show Smooth Collie Club Championship Show 2021 Reserve Best in Show SCCGB Open show 2021 to her kennel mate Ch By Design Under Mr Darren Clarke, critique Below:
OB (4) 1st Wynele Alice Blue Gown With Breckamore. Super blue merle. So well balanced and of
great type. Bang-on for size with quality bone and plenty of substance but no mistaking her gender.
Excellent head. Good wedge, stop and moulded muzzle. Almond shape eye. Excellent ear set, size
and carriage. Long, reachy neck. Deep, functional chest.
Well angled both ends giving her the ability
to extend and drive around the ring. Super colour and markings. Pushed her kennel mate all the way
for the top spot…close decision for BIS. Thought they looked a great pair in the challenge. Gather she
has recently gained her title. Congratulations! BB. RBIS & BOS
SCCGB Championship Show August 2021 Judge Delia Moores who's critique is below: Open Bitch (4,0)
1. French – Wynele Alice Blue Gown with Breckamore – stunning blue merle bitch of correct type. Clean wedge head with flat skull, good ears which she used to advantage. Arched neck, well made body with correct angulation front & rear, good length of back. Excellent movement, steady with good reach & drive – Pleased to award her the CC & BIS
Champion Breckamore Fly Me To Foxearth
     (Ch Foxearth Flock Master For Breckamore JW  X Foxearth Sticky Fingers with Breckamore)
Polly was campaigned to her Title by the Famous Foxearth Kennel and returned to my kennel several years ago to enjoy her retirement.
Champion Breckamore Blushing Groom
( Ch Foxearth Flock Master for Breckamore JW  X  Foxearth Sticky Fingers with Breckamore)
 Buster gained his title with very limited showing, he resides in the West Country enjoying his retirement.
CHAMPION LILYMEAD AMAZING GRACE
( Ch Foxearth Fido Fax  X Ch Foxearth Fire of Love At Lilymead )
My very first Smooth Collie, Lucy. Much missed by all!
Located between Selby & Doncaster, close to M18, M62, M1.